---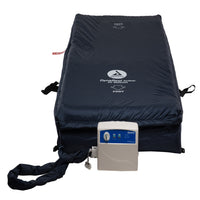 The DynaRest Airfloat Mattress combines low air loss and alternating pressure in one user friendly unit. The air flow and pressure range can be customized based on the patient's level of comfort, while the static mode allows for a firm support during repositioning or transfers.
The DynaRest Airfloat Air Mattress combines dual therapies of low air loss and alternating pressure in one unit used to treat pressure wounds. Inclusive of 20 8-inch cells that allow for deep submersion and pressure redistribution. The adjustable air flow dial on the pump provides customized levels for each patient's comfort and individual requirements. A static mode on the pump allows the patients caretaker to suspend the alternating therapy reducing the risk of injury during repositioning or transfers, while the alternating therapy redirects pressure away from points that may be experience the most pressure or pain.
Alternating pressure mattress replacement system provides alternating pressure.
20 8-inch deep air cells with 18 laser holes provide low air loss.
Pressure control dial can be used to adjust pressure levels.
CPR valve allows for rapid deflation.
2 modes: Alternating cycle or static mode. In case of low pressure, an indicator will illuminate on the pump.