---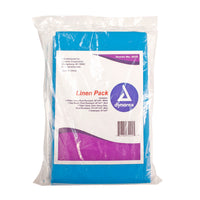 Everything you need to make a comfortable cot or stretcher Fast!
The Linen Pack contains high quality sheets and a pillow case that is conveniently wrapped and easy to store.
Contains:
1 - Pillow Case, Fluid Resistant, 20"x29", White
1 - Flat Sheet, Fluid Resistant, 85"x41", Blue
1 - Fitted Sheet, Extra Heavy Duty, Fluid Resistant, 74"x30"x22", Blue (fits most cots and some stretchers)
1 - Underpad, 23"x24"