---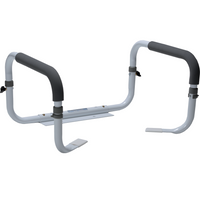 The Dynarex Toilet Safety Rail are stable, comfortable, durable rails that remain supportive and convenient making them a must for all individuals who have difficulty sitting down or getting up in a bathroom environment.
The Dynarex Safety Toilet Rail is constructed of a heavy-duty, durable steel frame, proving a sturdy support to any individuals with difficulty sitting or standing. This rail fits around most standard and elongated toilets, attaching directly to the toilet and is also equipped with a push button width adjustment and padded armrests for added comfort.
Heavy-duty, durable steel frame provides a stable support for individuals.
Fits around and attaches directly to most toilets.
Prevents accidental falls in a bathroom environment.
Push button width adjustments in 2 positions.
Cushioned hand grips.