---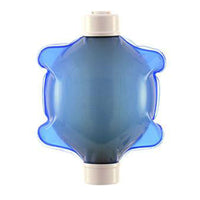 ACTion™ Block Pain Pump a continuous, stable delivery of local anesthetic solution to the nerve block catheter and enables the anesthesiologist to tailor the infusion strategy to best match each individual patient's unique pain needs throughout the course of treatment.
Offers a flow consistency of +/- 5% & LATEX FREE!
ACTion Block Pain Pump
Fill to Any Volume, Refill or Replace & Latex FREE
Filling
ACTion™ Block Pain Pumpcan be filled to any volume between 50-650 ml to achieve the
desired post-operative pain therapy duration.
Refill or Replace
When needed, refill the reservoir with additional medication. Alternatively,
replace the reservoir with a pre-filled reservoir while leaving the catheter
and regulating set in place.
Advantages
Minimize inventory needs and increase overall hospital cost savings

Extend the therapy when needed

Achieve intended duration of therapy when flow rates are changed

Dilute concentration as pain subsides

Added patient safety by always leaving the catheter connection secure
Pre-fill Option
ACTion™ Block Pain Pump provides the longest advanced filling shelf life of any
elastomeric pump on the market. ACTion™ Block Pain Pump provides a shelf life up to
45 days compared to the 30 day industry standard.