---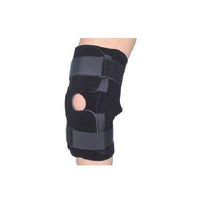 Indications for Use
Indicated for mild or moderate ligament joint pain, sprain, strains of the knee ligaments, stabilize knee joint following sprains and ligament and/or meniscus injuries.
Product Highlights
Medial and Lateral hinge stays provide excellent support.

Wraparound style allows for ease of application and adjustability.

Excellent choice for patients who are not able to pull a knee sleeve brace over their feet.

Neoprene with 4-way stretch nylon fabric.

Open popliteal eliminate bunching , improve range of motion and cool the back of the knee.

Neoprene condyle pad provide protection and comfort and reduce chaffing.

Easy removable hinges for custom fitting.