---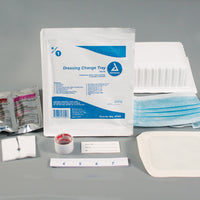 A convenient sterile kit for aseptic dressing changes.
Dynarex Dressing Change Trays are designed to be efficient, convenient and cost effective. This tray contains all of the sterile components needed to perform an aseptic dressing change arranged in procedural sequence.
Components arranged in procedural sequence for convenience
Cost-effective and disposable
Not made with natural rubber latex
Contents: (1)Instructions; (1)Non-Woven Face Mask; (1)Pair Vinyl Gloves with Wallet, Powder Free; (1)Polylined Drape, 13" × 18"; (1)Tape Measure, 36"; (3)Alcohol Swabsticks; (3)PVP Swabsticks; (1)Non-Woven Split Sponge, 4" × 4"; (1)Non-Adherent Sponge, 2"