---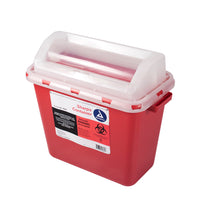 High quality containers are designed to be strong and lightweight.
The Dynarex Sharps Containers are designed so needles can be dropped in without touching the outside. The large openings accommodate larger syringes and allow for horizontal drop, maximizing the container volume. Each container is puncture resistant, aiding in the prevention of needlestick injuries and have a translucent lid to allow users to easily monitor fill levels.
Designed so needles can be dropped in the container without touching the outside
Horizontal drop maximizes container volume
Locks for final disposal
Transparent lid allows for visual monitoring of contents to avoid overfilling
Easy-to-see fill levels

Puncture resistant
Commonly used in EMS, hospitals, nursing homes, clinics and doctors offices, etc.