---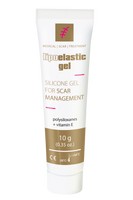 Are you planning on having breast surgery and are worried about unpleasant scars? Even though a scar is a natural healing process of the skin, you can speed up the healing process and improve the appearance of scars. Paying attention to scars during post-operative care should not be overlooked.

Description
When should I use LIPOELASTIC gel?
Ideal for use for scars after breast surgery, abdominoplasty, after liposuction, after a facelift, after cesarean delivery, burn scars, scars on the face, keloid piercing scars, keloid tattoo scars
Designed for

 

reduction

 

and aesthetic

 

improvement of scars

 

after surgery, injury, or burns

Product description
Silicone gel enriched with vitamin E proven to treat scars
The gel is effective to

 

new

 

and

 

old scar tissue
Fast-drying silicone gel
Enriched with

 

vitamin E,

 which 

helps to regenerate the skin
High compatible silicone generation ingredients
Reduces redness

 

and

 

itching, prevents the formation of keloid and hypertrophic scars
Creates

 

fine protective matt layer

 

on the skin
The healing effect of silicone gel on scars is

 

clinically proven
LIPOELASTIC gel is made in France
French production of cosmetic and dermatological products is a guarantee of top quality.
Weight
How to use LIPOELASTIC gel?
It's essential to follow

 the 

long-term regular application
Recommended treatment lasts

 

8-16

 

weeks, depending on progress, permanent improvement is noticed after this period
It's essential to wash the scar and apply silicone gel every 12 hours
Do not use LIPOELASTIC gel on non-healed, open wounds
It's been proven that regular massage significantly helps turn scarred tissue into healthy tissue. You can start massaging about two weeks after the surgery or when the wound is healed.
To massage your scars, only use 100% silicone base products as it is a clinically proven method for scars management. Silicone softens, lightens, and evens out scars.
Did you know that a combination of silicone gel and medical compression eliminates the formation of keloid scars?