---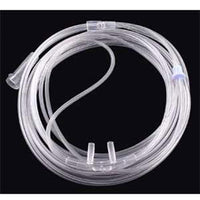 Designed for patients requiring medium or low concentrations of oxygen.
The over-the-ear design maintains proper positioning of nasal tips, while allowing complete freedom of movement. Star lumen supply tubing is durable and kink-resistant. All varieties of nasal cannula are individually packed.
Pediatric Nasal Cannula features the same over-the-ear design, plus softened flexible tips for extra patient comfort.
Packaging:
MS-24101 - 50/cs