---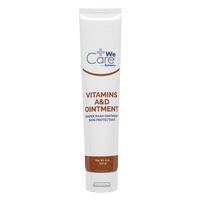 Vitamins A&D Ointments
Dynarex Vitamins A&D Ointment is formulated to protect and heal skin while preventing dryness. The ointment acts as a moisture barrier to protect and promote healthy skin, while treating and preventing dryness, minor skin irritations, and diaper rash.
Box Quantity: 6 each
Case Quantity: 12 Boxes
 Vitamins A & D Ointment is a skin protectant for minor cuts, scrapes, and burns. The ointment is made with a unique formula that includes effective, well-known healing ingredients. The ointment's base is white petrolatum, the active ingredient in Vaseline™. The cream is infused with Lanolin to treat dry skin, itching, and skin irritation, Lavender Oil, which has antiseptic and anti-inflammatory properties that help heal minor burns and bug bites, and Vitamins A and D. The sensitive formula is ideal for tattoo aftercare, diaper rash prevention, and other skin irritations. Available in single use packets, larger tubes, and jars for convenient use in a wide range of long-term care facilities, tattoo parlors, first aid kits, homecare, and more.
Skin protectant ointment for cuts, scrapes, burns, and skin irritation
Ideal for tattoo aftercare or as a diaper rash ointment
| Re. No. | Product Name | Qty./Box | Box/Case |
| --- | --- | --- | --- |
| | | | |
| 1155 | Vitamins A&D Ointment 4 oz. Tube | 6 | 12 |